Cambridge Sensotec Releases New Rapidox 2112 Multiplex Gas Sampling System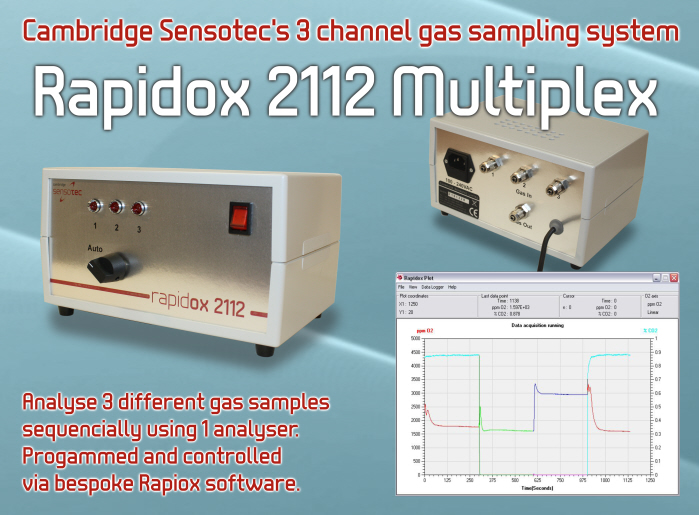 Cambridge Sensotec is proud to announce the release of another new product. We are pleased to offer the Rapidox 2112 Multiplex sampling system that allows users to analyse three different gas samples sequentially, using just one gas analyser. The Multiplex system has three independent gas inlets that are fed to a single gas outlet using a system of electronically controlled solenoid valves.
The 2112 is programmed and controlled using the Rapidox software through a USB connection to the control instrument. To allow standalone applications, there is an override dial on the unit that allows the user to switch sampling inlets manually. Using the free Rapidox software, the user can control how long each stream is sampled for before the sampled gas stream is switched to the next inlet. This allows the user full control over the sampling time for each channel and if one inlet is not required, then the sample time simply needs to be set to zero.
Each channel is given a separate name so that they can be easily identified and during data logging they are assigned unique colours on the graphing software. The software also synchronises with the Rapidox gas analyser so the user can easily tell which channel is being sampled at any given time. The Rapidox 2112 Multiplex sampling system runs from any worldwide voltage and can be used with any other gas analyser that has an inlet option. The unit has Quick-connect nipple fittings for 6mm OD / 4mm ID tubing.
Specific applications for the Rapidox 2112 include;
• Nitrogen blanketing in mass flow soldering
• Multi-point gas sampling
• Tunnel kilns
• Furnaces gas sampling
• Sampling from microbiological chambers in O2 deficient atmospheres
• Glove box applications
The R2112 is fully compatible with the entire Rapidox range of gas analysers or any other gas analyser with the correct connections.
For further information on gas analysis, please contact us on +44 (0)1480 462142 or email sales@www.cambridge-sensotec.co.uk. Further details can also be found on our website www.cambridge-sensotec.co.uk