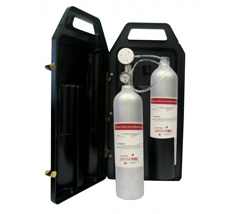 Calibration Gas
Product Information
Cambridge Sensotec supplies bespoke gas calibration kits for our O2 and SF6 gas analysers, as well our gas detection & MAP product ranges. Each kit has the appropriate calibration gases and flow regulator supplied in a convenient carry/storage case.
We have partnered with Cryoservice (a division of Air Products Group Ltd) to supply this delivery service. The gas cylinders themselves are small lightweight NRC (non-returnable) canisters that can be disposed of in local land-fill sites, and the gas mixtures themselves are fully traceable and supplied with a calibration certificate. Our gas kits can be shipped to many countries throughout the world for our overseas customers.
The gas is supplied in small, easy to manage cylinders (40 x 10cm, 1.2 kg) containing 58 or 110 litres of gas. These are connected using a regulator that releases gas at 0.5 litres per minute (C10 valve fitting). Gases, regulators and cases are available to purchase separately if required.
Note that replacement cylinders and other gas concentrations are also available